How to Build an IDX Website for Your Real Estate Business
If you're a real estate agent, then you know that a strong online presence is key to success. And one of the best ways to build your online presence is by creating a website that uses an IDX feed. IDX stands for "Integrated Data eXchange," and it allows you to display listings from your local MLS on your website.
What is an IDX website, and why do you need one?
An IDX website, or "integrated digital exchange," is a website that allows real estate brokers and agents to list properties for sale or rent on the web. It also allows home buyers and renters to search for listings on the web.
IDX websites are important for real estate professionals because they allow them to attract new clients by offering homebuyers a place to search for listings online.
What are the benefits of using an IDX website?
One of the benefits of using an IDX website is that it can help you connect with more potential clients. An IDX website allows you to display listings from multiple brokerages, which can help you attract more visitors to your website. Additionally, an IDX website can help you build your brand and increase your online presence by way of SEO.
If you're looking to create an IDX website for your real estate business, then be sure to follow these steps. By creating a website that uses an IDX feed, you'll be able to give your business a strong online presence and attract more clients.
How do you go about building an IDX website?
Now that you have a better understanding of what IDX websites are and how they work, you may be wondering how you go about building one. This process can be a little daunting, but it's not as difficult as it may seem.
When building an IDX website, there are 3 options to choose from.
Option 1: WordPress IDX Plugin
If you are using a WordPress website, you can use an IDX plugin that will allow for IDX features on your site. An IDX plugin will add an additional page to your current website that will allow potential clients to start, save, and receive notifications for their home search.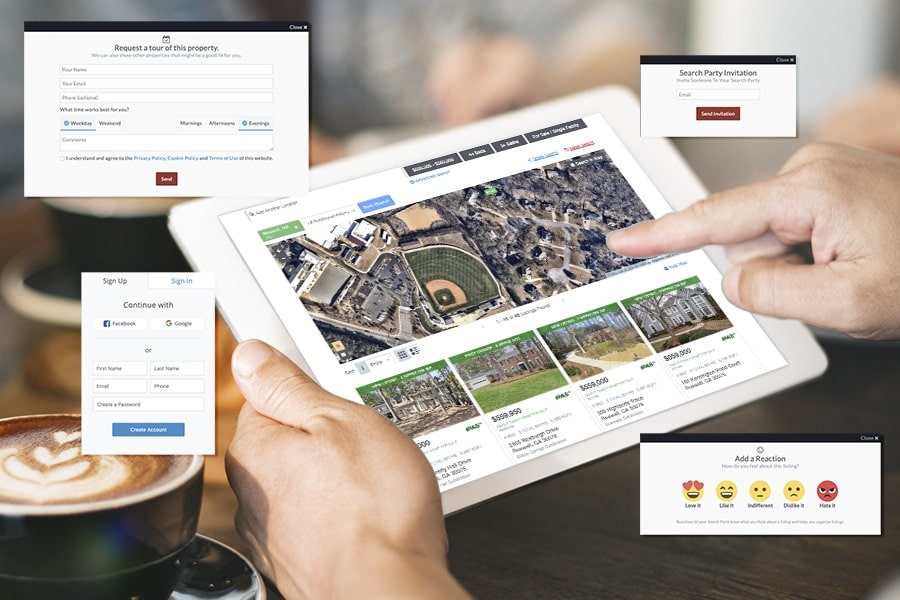 When someone registers, you can set up the blackened that will then transfer that person's information into your CRM.
Option 2: Use a Website That Has IDX Built-in
If you're looking for an out-of-the-box solution, signing up for a website provider with sites that come with IDX built-in will be the best bet. Now, some sites will only offer a landing page whereas others provide a fully customizable site.
When potential clients land on your site, it's important to have them submit an inquiry right then and there. That said, you will need some pages on your IDX site built out that build credibility.
What are the best IDX providers?
The best IDX websites share several common features that make them ideal for real estate agents. First, they offer powerful search features that make it easy for homebuyers to find the properties they're interested in.
Second, they provide lead capture tools that help you turn website visitors into leads. And third, they offer great SEO features that help your website rank high in search engines.
When looking for IDX website providers, it's important to understand the differences between them as prices can be deceiving.
Here are some features to look for when comparing IDX providers:
Is the site built to rank in organic Google search results?
Optimized for all devices — desktop, mobile, and tablet
Uses industry-leading best practices to convert more leads
Loads fast so visitors can navigate the site quickly
Can you build online authority with easy, automated blogs
Supports unlimited location and landing pages so you can stand out from the competition in any niche
Do they provide training and support from our team of product and real estate experts
Now, if you are doing offline marketing, say direct mail, and directing those leads to your site, the above-mentioned features won't matter as much. These features are primarily for those that want to rank on google and receive organic leads.
Conclusion
If you're ready to start an IDX website for your real estate business, I recommend checking out Carrot as a potential provider. With built-in SEO features and blog content, it provides much more than a simple IDX website!