Real Estate Marketing With Football
Introduction
With the football season upon us, new real estate marketing and advertising opportunities await to be taken advantage of. As the season gets underway, you can create multiple opportunities to get together with past and future clients.
You can incorporate any football team within your marketing... It could be a local high school football team, college football, NFL, or even having just a super bowl party.
Additionally, we can utilize this time to build deeper relationships within your geographical farm.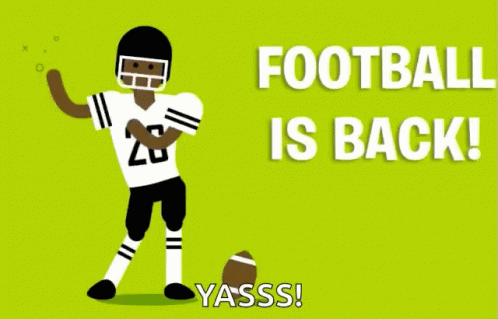 Idea #1: Host a fantasy football league draft party
Those serious fantasy football players know one thing- We take our fantasy league seriously. Hosting a fantasy league draft party is always a great time and provides an opportunity to be introduced to new people via your friends.
The best part about hosting this type of event? It's easy! It's a laid-back type of gathering that does not require much preparation. Additionally, it provides the opportunity to form bonds with those who share the same interest in a team, or player.
Idea #2: Open House Football
If your open house is scheduled during a popular game, you can always promote it as a football get-together (with the seller's permission). Alternatively, you could ask a seller if they would be open to allowing you to host a gathering to watch the game. This would allow for multiple parties to see the house... while watching football.
To attract more people, you can always throw in a gift card giveaway during the gathering.
Idea #3: Host a small gathering to watch the game
Host a small gathering to watch the game and invite some past clients, current clients, and friends to watch. This is also a great opportunity to invite those who live in your geographical farm.
Make it a casual event—it doesn't need to be formal or fancy; just make sure that everyone has fun!
Idea #4: Football Schedule Magnets For Realtors
Football schedule magnets, that have your real estate information on them are a wonderful marketing technique. Here's the great thing about football schedule magnets: They stay on the recipient's fridge for months.
Unlike postcards, there is an actual (and helpful) reason to keep the magnet around for a few monthy, I believe magnets make for one of the best marketing tools for real estate agents.
Idea #5: Create Social Media Posts
Posting about an upcoming game, or your disappointment in the outcome of a game provides an opportunity for increasing engagement on social media. Especially if your team is out of state, sharing who your team is can be a great way to meet new people and form bonds.
Here are a few examples of social media football posting templates for upcoming football games or football party invites you can use on Canva.
Idea #6: Real estate pop by
A real estate pop-by is simply dropping off a goodie bag of sorts to those who are in your SOI. Football makes for a great opportunity to pop by with a custom bag for everyone in your SOI. If there is a rivalry game coming up, you can make cookies or even buy a few (small) food items that are their team colors.
This shows you remember the details, such as their favorite team, and will be much appreciated.
Idea #7: Host a Tailgate for Senior Night
Senior night is when all of the senior football players are recognized. This is a special event for not only them but also their parents. Usually held at the end of the season, it would make for a great opportunity to host everyone at your house before the football game.
You can also create a photo for each senior. This can easily be shared on social media or simply given to the family. If you want to go above and beyond, have the image printed and framed. The family and the senior will be extremely appreciative of this gesture.
Here is a football social media template I found on Canva that can get you started on creating a photo for each senior football player.
Idea #8:  Football Ticket Giveaway
Creating a contest is a great way to gain a larger following on social media while also adding more clients to your pipeline. There are multiple options to choose from when determining how to launch a giveaway. For maximum exposure and ROI, here is what I suggest.
Step One: Find an upcoming sought-after football game  
You will want to pick a game that is a few weeks or months away so the winner has ample amount of time to plan accordingly. I recommend choosing a football game that is either a rivalry game or one that is generating lots of attention.
Step Two: Purchase tickets
The most important part lol... Definitely want to make sure you have the tickets in hand. I recommend purchasing at least 2 tickets and purchasing 4 will allow for the contest to spread quicker, as you will see.
Step Three: Launch The Football Ticket Contest on Social Media
When launching the contest, there are a few goals you want to keep in mind. Now, I also recommend posting on multiple social media platforms. You may have a connection on LinkedIn but they do not follow you on Facebook. Running a contest is a great way to boost one of your social media accounts.
Here is how I recommend you structure the contest based on the goals.
Goal One: Like your real estate agent social media page
To be considered for the contest, you will add one of the requirements that they will have to follow/like your agent social media page.
Goal Two: Increase exposure to you real estate agent services
Now, we want that outside of your friend list to become aware of the contest. To facilitate this you can either add a requirement that people share the post to be considered or tag 3 people they would bring with them if they win. The latter only works if you bought 4 tickets.
Goal Three: Add potential clients into your pipeline
Lastly, we want them to enter their email on our agent website. You can create a simple landing page using Moosend. They have a few pre-made landing page templates and you can also easily add a countdown timer! Here are a few landing page templates to check out.
Step Four: The Drawing
A few days before the drawing, be sure to post a few reminders on social media about the day and time it will be taking place. I highly recommend doing the drawing on Facebook live and doing it on a day or time you know people will be able to tune it.
For example, you could do the drawing on Saturday at 2 pm or a weekday at 7 pm.
Once the winner has been selected, be sure to create a post tagging and congratulating them. If you deliver the football tickets in person, be sure to take a photo with them for an additional post later in the week.
Here is what the contest promotion will look like:
Canva has a few other contest templates that I highly recommend checking out.